After several days at the Elysian Beach Resort, with the experience of our Captain, see the islands on the comfort of our live-aboard first class 44 foot Privilege Catamaran. The Argos, a Greek word meaning faithful dog, will amaze you as you sail safely through the islands of St Thomas, St John, or the BVI.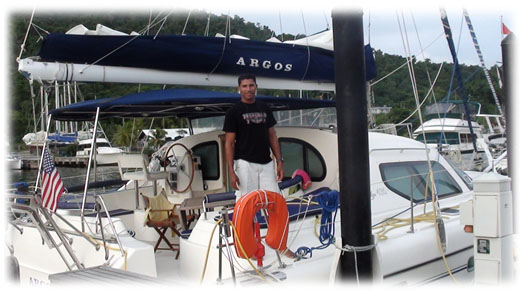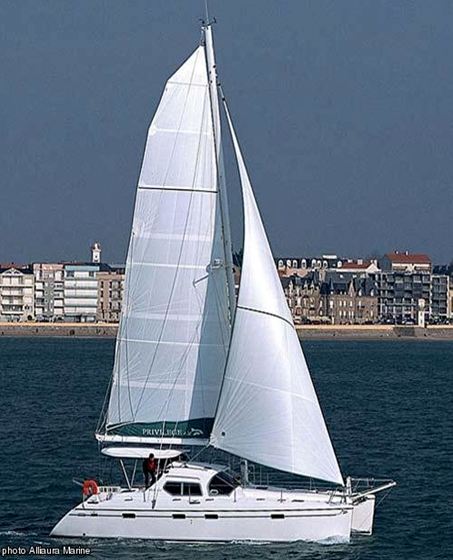 The Argos with her light hickory interior, full kitchen and bar, having 3 queen beds, fine linens, 2 full-size bathrooms, and 3 showers will exceed your expectations. She is not any Catamaran, she is a first class vessel equipped with air conditioning, water maker and more.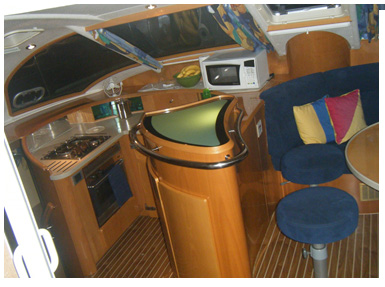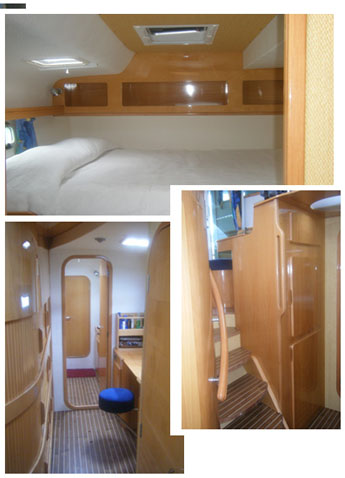 Our base package includes the experience and guidance of our Captain, the Argos, gas, all cleaning fees, beach towels, fine linens, and snorkeling gear start at $1,300 per night. You may purchase and plan your meals aboard or we can offer meals according to your requests. We have competitive dive packages and know the area well so let's rent some tanks and island hop in search of that perfect spot. Okay we can meet a dive boat at our chosen spot! I believe you will find us under market value and simple with no hidden fees so please give us a call so we can discuss a vacation of a lifetime aboard the Argos.
A gentle breeze and you are off under the guidance of our experienced captain island hopping through St Thomas, St John, and the BVI's like you have never experienced them before.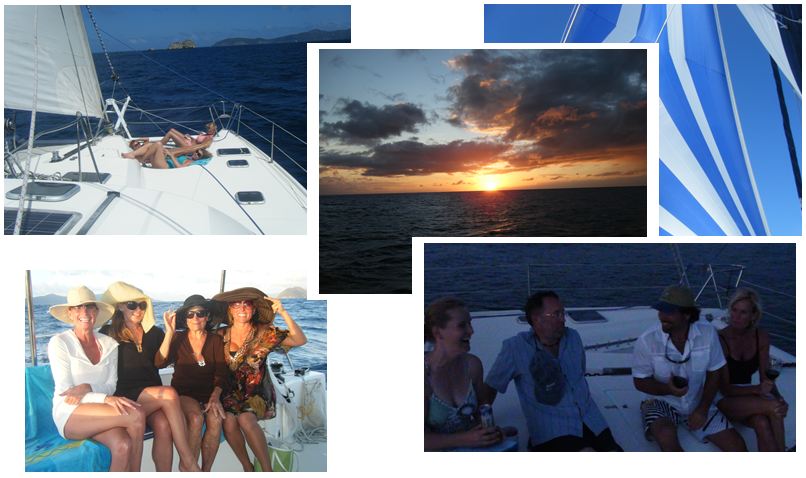 Above deck there is plenty of room to relax and sun as dolphins frequently visit sharing the sounds of music. It is our mission to wine and dine you as well as customize your experience aboard our vessel. Weather you are after a cool beverage, a glass wine, or a spot of tea, relax and take in the majestic sunsets.

Set sail and let the wind move you!

Should the breeze fail, the Argos will kick on to motors and air conditioned interior for your comfort. We are committed to please you with a personalized itinerary to fit your dreams.

"The beauty of our islands will change your soul forever"


Arrange snorkel, scuba, dolphin tour, or night sail if you so desire, this is your dream and we are your vessel. We will do our best to accommodate your needs to make the memories of a lifetime.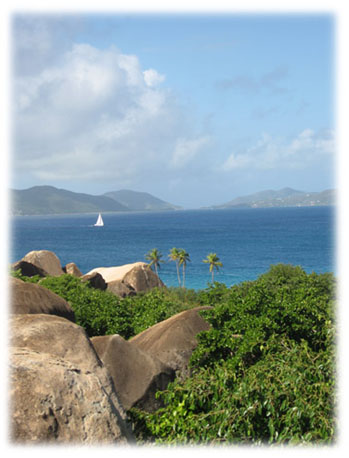 Island hop and enjoy the comfort but steady sail, the signature of a catamaran design, traveling East passing the beautiful beaches of St John, Caneel Bay, Trunk Bay, and Francis Bay through the guarded islands of the BVI to the Baths. One thing is for certain: you and your group will enjoy the accommodations and hospitality of your yacht.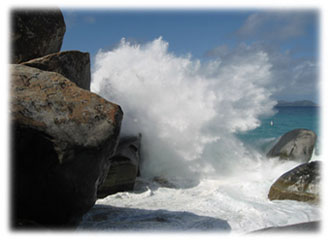 And as night falls, retire to your queen-size beds, feel the breeze, and comfort knowing you are safe aboard the Argos, the faithful dog, nestled in a coves, out of danger, out of reach from the weather with the captain at watch using our sophisticated on board weather radar and reports from the main land.

Let cool breezes run through you as you leave behind the worries of yesterday and discover the wonders of tomorrow. Awaken that inter soul, find love, excitement, and laughter.
The "Argos" A Vessel to your Dreams